The History of the Lafayette Fire Company
The Beginning:
June 10th 1943 – A group of citizens met at the home of George Luttenberger  to organize the Lincoln Heights Plaque Association. This group would design and dedicate a plaque honoring local residents serving in the World War II on July 4th 1943
August  1st 1943 – During another  meeting of this community group at the home of Harry Buckwalter,  it was suggested that a committee be formed to canvass the area for interest in forming a fire company.
August  12th 1943 – At another meeting of the same community group positive results of the survey were reported and the Lafayette Fire Company was formed. The name Lafayette was selected in honor of General Marquis D. Lafayette who assembled his troops at a site along the current Old Philadelphia Pike during his 1825 march into Lancaster.
October 1st 1943 – The Lafayette Fire Company of East Lampeter Township is officially chartered.
October 7th 1943 – The first official meeting of the Lafayette Fire Company was held. At this meeting it was announced that a 1937 Chevrolet pumper designated Engine 1, had been purchased. It was also announced that local resident James Keemer had donated the use of his garage to be used as the first fire station. This building still stands on the north side of Lincoln Highway E. just east of the current fire station.
October 12th 1943 – The Ladies Auxiliary of the Lafayette Fire Company was organized
November 1st 1943 – The Relief Association of the Lafayette Fire Company was organized.
March 25th 1944 – The Lafayette Fire Company answered their first alarm for a fire in a brooder house on Witmer Rd. in Witmer's area. Since the Lafayette engine had a water tank of significant size (For that time) they were able to apply water right away.
October 2nd  1944 – The Fire Police division of the fire company was organized
November 1944 – A second pumper was purchased. This pumper, designated Engine 2  was also a 1937 Chevrolet with a 500 Gallon per minute Darley pump. The unit carried no water and served as a hose wagon.
August 6th 1945 – A tract of land was purchased along Lincoln Highway East west of the original station.
September 8th 1945 – The fire company held its first successful festival on the festival grounds behind where the new fire station was being built.
January 18th 1946 – Lafayette was called upon to transfer into Lancaster City to cover station 3 during a major fire at the Ranck Tobacco Warehouse.
March 7th 1946 – The Lafayette Siren, a progressive fireman's paper of Lancaster County began to be published on a monthly basis. Following 3 years of production this newsletter was merged with the Lancaster County Fireman magazine, a predecessor of the current day Pennsylvania Fireman magazine.
May 24th 1946 – Lafayette firemen were called upon to the Dillerville yard of the Pennsylvania Railroad to cool down 23 railcars full of hogs. This needed to be done because the railroad employees were on strike . Fire Chief Harry Knisley reported around 2000 feet of hose was laid out to accomplish this task.
1947 – Construction of a 3 bay fire station was completed and Lafayette moved into its first permanent home.
1948 – The Lafayette Fire Company along with Witmer, Bird in Hand and Ronks Fire Companies purchased an ambulance and on March 1st of the same year jointly organized the East Lampeter Ambulance Association. The ambulance was housed in the new Lafayette fire station.
1949 – A new pumper was purchased. The chassis for this unit was built by Chevrolet and the body was built locally by High Welding which would later become High Steel, a prominent steel company in the area. When the Chevrolet chassis was delivered to the dealer there was a huge mistake, the truck was painted orange. After some discussion the leaders of the fire company decided to keep the orange truck as they felt it would distinguish Lafayette's apparatus from others. The pump from the original Engine 2 was transferred to this unit and it was placed into service. The original 1937 Chevrolet was repainted orange to match the new engine and the original Engine 2 was disposed of.
1951 – Another new pumper was purchased.  The chassis for this unit  was built by Reo with another High Welding body. The Reo had a 500 Gallon per minute Barton fire pump and a 1200 gallon water tank.
1954 – Traffic lights were installed in front of the fire station after Fire Policeman Clarence Retallick was seriously injured after being struck by a car while directing traffic during an emergency call
1955 – Construction was completed on a large social hall attached to the original 3 bay station. Complete with 2 kitchens and a large gathering area this hall would allow the fire company to conduct fund raising events and social activities which included hosting a boy scout troop.
1962 –The fire company became part of the Plectron alerting system. Several Plectron alerting monitors were purchased to be placed in member's homes and Lafayette began to be centrally dispatched by the City of Lancaster.
July 1964 – The first Lancaster County Fire School was constructed in the grass lot behind the fire station. Training facilities included a burn building and a drill tower.
1965 – The 1949 Chevrolet/High Welding hose wagon was replaced by a new pumper. The new pumper was built by Hahn Fire Apparatus in Hamburg PA on a Ford Model C chassis. 6-3-A had a 1000 Gallon per minute pump and a 1200 gallon water tank.
January 7th 1966 – A section of land was sold to the City of Lancaster Water Authority for construction of a 7 million gallon water tower behind the fire station.
1966 – Lafayette began to provide fire protection to the eastern portion of Lancaster Township under contract for $500.00 per year.
May 1967 – Lafayette purchased their first Self Contained Breathing Apparatus. 2 units were purchased for $659.00. Those air packs would be tested in November of 1967 when a serious fire occurred inside the Conestoga Bank building on Penn Square in Lancaster. Lafayette firefighters would respond to this fire and enter the building to retrieve $1,000 from the desk of the treasurer Harold Yoder who worked in the bank.
1969 – Another Ford/Hahn pumper, 6-3-C, was purchased. This engine had a 1000 Gallon per minute pump, a 1000 gallon water tank, and a 150 pound dry chemical system.
1972 – Hurricane Agnes struck the area with massive flooding. Lafayette crews worked for several days responding to calls for assistance. At one point the Conestoga River flowed over the bridge in Bridgeport, something that has never happened since this storm.
1974 – The first ever produced orange fire helmets were purchased for the newly created positions of Captain and Lieutenant. The helmets were made by MSA and were another unique part of Lafayette that distinguished us from others.
1974 – The original 3 bay fire station was demolished and a new larger 2 bay station was constructed by fire company members. The new engine bay was deep enough to stack several vehicles and had much larger overhead doors. During the construction the apparatus was stored in a garage owned by member Norm Groff just west of the fire station. During this period, the company answered an alarm for a structure fire at the Anderson Box Company in Greenfield. This was one of the largest fires to date for the fire company and drew apparatus from as far away as New Holland.
1975 – A 2 alarm fire destroyed the Burger King in Bridgeport. No chief officers from Lafayette responded to the call requiring longtime Lampeter Fire Chief Lloyd Henry to take charge of the scene.
1978 – The first custom pumper (Engine 6-3-2) was purchased. Built by Mack Trucks in Allentown PA this engine was the first diesel powered vehicle to be owned by the fire company and the first with crew seating or "jump seats" behind the cab area. The Mack has a 1500 Gallon per minute pump, a 500 gallon water tank, and a 40 gallon foam tank.
1979 – The 1951 Reo was converted by fire company members into the company's first dedicated foam unit (Foam 6-3) The water tank was removed making room for 500 gallons of foam concentrate which was purchased by funds from local oil companies and industries.  This was done following a fire at the McMinn Asphalt plant on Lincoln Highway E. where several tanks of naptha were involved and a large supply of foam was not readily available.
1981 – Large diameter 5" Supply hose was purchased and placed on the 3 frontline engines. Lafayette was one of the first companies in the area to have 5" hose.
1983 – The 1965 Ford/Hahn (Engine 6-3-1) was modified to operate in the capacity of a truck company. Additional ground ladders were added as well as power saws and ventilation fans. This would lay the groundwork for Lafayette becoming a dedicated truck company.
1986 – The first ladder truck was purchased. Built by Ladder Towers Inc. (LTI) in Ephrata PA on a Mack chassis this unit had a 75' aerial, a 1500 Gallon per minute pump and a 150 gallon water tank. Once placed into service, the 1951 Reo was sold and the 1965 Ford/Hahn was again modified to serve as the Foam Unit.
1988 – A station renovation saw the original social hall size being reduced by the addition of offices, a gear room off of the engine bay and a trophy case.
1990 – A Ford F-350 pick-up truck was purchased by the Relief Association to serve as a Squad. Tool compartments were fabricated by fire company members and the new Squad entered service. Once in service the practice of riding the rear step or tailboard of the apparatus was ended for safety reasons.
1991 – A new Spartan/Saulsbury rescue pumper (Engine 6-3-1) entered service. This unit carried a 1500 Gallon per minute pump, a 600 gallon water tank, and a 40 gallon foam tank. This engine had ample compartment space to carry the growing array of vehicle rescue equipment operated by the fire company.  This was the first unit purchased by the fire company with a fully enclosed cab. When placed into service the 1978 Mack was stripped down and sent away for refurbishment.
1992 – The Mack pumper returned from a total refurbishment. The refurb which was completed by Pennsylvania Fire Apparatus of Gettysburg PA included a new body, an enclosed cab and a larger hosebed while retaining the original chassis, motor and pump. Once placed back into service the 1969 Ford/Hahn was sold.  Also this year the Lancaster County Foam Task Force was formed with Lafayette as a founding member.
1993 – Lafayette Fire Company celebrated our 50th anniversary with an open house and ceremony.
1994 – The first hydraulic rescue tool system was purchased. The system built by Amkus was placed into service on Engine 6-3-1 and has been instrumental in saving numerous lives around our area.
1997 – The method of responses was changed splitting up first due responsibilities between Engine 1 and Engine 2. Up until this point Engine 1 handled all alarms first due. This change put the 1978 Mack back on the front line again as the primary structural fire response unit while Engine 1 was the primary rescue response unit.
2000 – The 1965 Ford/Hahn began to suffer mechanical issues and was suddenly placed out of service leaving Lafayette without a foam unit. Witmer Fire Company loaned Lafayette their 1967 Mack pumper to use as a foam unit until a new engine could be purchased. The 1965 Ford/Hahn was donated to a rural fire company in Mississippi where it was repaired by fire company personnel and served for several more years.
2002 – Lafayette adopted a new fire company emblem. The new emblem was designed by Captain Rick Miller and incorporated our original LFC seal into a more modern fire service design.
2003 – After months of planning a brand new custom Pierce pumper was delivered. This unit was built on Pierce's Quantum cab and has a 2250 Gallon Per Minute pump, a 500 gallon water tank, and a 100 gallon foam tank with Pierce's Husky 30 Foam injection system. Engine 6-3-3 was placed in service June 14th 2003 with a formal housing and parade. Engine 6-3-2 (The '78 Mack) which at the time was the oldest front-line engine in Lancaster County was then modified to serve as the foam unit but unlike its predecessors still continued to serve as an active engine company as well.
2003 – A federal grant was awarded to Lafayette which allowed the purchase of all new Self Contained Breathing Apparatus (SCBA) and a refill station with compressor.
2005 – Chief Ron Nolt asks the Board of Directors for their blessing for beginning research into the feasibility of a new fire station.
2005 – The Emergency Management agency of Lancaster County purchases 3 foam trailers for the Lancaster County Foam Task Force. One of these trailers is assigned to Lafayette. The Squad is equipped with a towing package and the foam trailer is placed into service. While owned by Lancaster County, the trailer is operated by Lafayette personnel.
2005 – Our 1949 Chevrolet pumper is discovered for sale along the roadside in Quarryville PA. Members of the fire company contributed the funds to purchase the unit back. Over a 3 year period the unit is restored to its original condition
2007 – Pierce Manufacturing was once again chosen as a replacement ladder truck was purchased. The unit, a 2007 Pierce Quantum has a 95' aerial platform and 250' of ground ladders as well as ample compartment space for the vast array of specialty equipment carried by the truck company. Once placed into service the 1986 Mack/LTI was sold to the neighboring Rohrerstown Fire Company, who used the truck as a stopgap measure until their new platform was delivered in 2008. The new tower does not have a fire pump or water tank. The total cost for this unit was $905,000.
2009 – Some internet surfing led to the discovery of a used 2003 Pierce rescue pumper for sale. The 1991 Spartan/Saulsbury was due for replacement in 2011 but with talks of a new fire station occurring it was realized that a brand new pumper may not be feasible. Lafayette personnel traveled to the Riveria Beach Fire Dept. in Pasadena Maryland to inspect the pumper, which was subsequently purchased by Lafayette. After a paint job and some compartment modifications the "new" Engine 6-3-1 entered service and the 1991 Spartan/Saulsbury was sold to the Massie Township Fire Dept. in Harveysburg Ohio.  The 2003 Pierce Dash pumper has a 1500 Gallon per minute pump, a 500-gallon water tank and includes features such as a light tower, pre-connected hydraulic tool reels, a hydraulic generator, and increased compartment space. The total cost for this unit with our upgrades was $325,000
2009 – Lafayette received another federal grant which allowed the total replacement of all fire gear. 40 new sets of gear were purchased equipping all active firefighters with a new set of turnouts.
2010 – Yet another federal grant was awarded to Lafayette which allowed the purchase and installation of laptop computers in all of the frontline apparatus. The On Scene Explorer mapping system allows responding firefighters to look up addresses, fire hydrants and many other physical features while responding to an alarm.
2010 – Funds from East Lampeter Township were used to purchase a UHF radio system for all 4 township fire companies. This system uses UHF portable radios through repeaters onto the county's low band system and has greatly increased the communication abilities of our firefighters.
2011 – Lafayette receives a 2.285 Million Dollar federal grant for the construction of the new fire station.
2011 – Construction begins on the new fire station which will be located on existing fire company property just south of the current station. This is the largest project ever undertaken by the fire company. Countless hours are spent by fire company members planning, designing, and assisting in the construction of the new facility.
2011 – A used 2005 Ford Explorer was purchased by the Relief Association from the Bladensburg Fire Company in Maryland to be used as our first-ever duty officer vehicle. The "buggy" as it is often referred to, is used by the duty chief on a weekly rotation basis. This allows the chief to have a dedicated command center at incidents without sacrificing wear and tear on their personally owned vehicles as was done in the past. The buggy is equipped with several radios and a command console in the cargo area of the vehicle.
April 14th, 2012 – The new fire station at 63 Lafayette Way was officially occupied and placed into service. The new station is much larger than the former station with 5 drive-thru bays, a larger meeting and training area, a larger gear room, a maintenance shop, and several more offices. The new station also incorporates a hose/training tower and a museum that proudly displays the 1949 Chevy Pumper.  The former station is vacated and later sold to H&F Tire Service.
August 1st, 2012 – Lancaster County-Wide Communications rolls out a re-numbering of the county fire agencies in anticipation of the new radio system. All hyphens are eliminated changing Lafayette from 6-3 to 63.
December 2012 – The Duty vehicle was involved in a vehicle accident while responding to an alarm and subsequently totaled. A replacement 2003 Ford Explorer was purchased from a local dealer and up-fitted with all of the original vehicle's equipment and some upgraded warning lighting.
July  1st 2016 – A new Squad was placed into service. The Ford F550/Swab unit was purchased new with funding from East Lampeter Township for 60% of the purchase price. This unit was purchased at a support vehicle for vehicle accidents, rescue calls, and to pull our foam trailer. This unit handles many of our minor calls to keep wear and tear off of the suppression apparatus. The total cost of this unit was $155,000.
March 2017 - Engine 63-3 (2003 Pierce Quantum Pumper) sold to Kenova, WV. This was to downsize the apparatus fleet to 2 engines, 2 squads, and the ladder truck.
February 2018 - The LFC began its Duty Crew Program, which allowed firefighters from all over to serve with the Lafayette Fire Company. This helped the LFC in return, by staffing apparatus when staffing was light.
April 2018 - The 2003 Ford Explorer had several motor issues, therefore was replaced with a 2008 Ford Expedition. The '08 Expedition previously served the Manheim Borough Police Department.
October 13th, 2018 - The Lafayette Fire Company celebrated 75 years of service to our community. The day consisted of a parade with apparatus from local departments and an open house.
July 1st, 2019 - The LFC and surrounding companies responded to a large outside fire in the parking lot of Tanger Outlets. The parking was being fixed after a large sinkhole had swallowed several vehicles months earlier. Several stacks of plastic grates covered with a rubber material caught fire. The initial call was for a vehicle fire, but the assignment was upgraded to a full structure response with activation of the Lancaster County Foam Task Force. It was reported the smoke could be seen from all of our surrounding counties and the state of Maryland.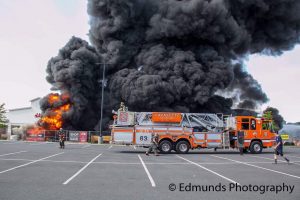 May 2021 - The Company purchased a brand new Engine 63-2, which was a 2021 Pierce Enforcer. This unit replaced the 1978 Mack CF. The total cost of the new pumper was $625,000. When the new engine was placed into service, the response order for engine calls went back to being split. Engine 63-1 handles all of our vehicle-related calls, while Engine 63-2 is the first pumper to respond to any structure-related incidents.
July 2021 - The LFC launched a live-in program with four individual bunks. Two members immediately moved in. Firefighter, Ryan Whispell, and Firefighter, Jordan Adams were the first two full-time live-ins for the company.
February 2022 - The LFC purchased its first brand new Duty Officer Vehicle. The vehicle was a 2021 Ford Utility PI. The intent of purchasing a new vehicle was to get additional years of service from the vehicle, rather than having to replace a used vehicle more frequently. The total cost of this unit was $50,000.