The 2024 Cadet Camp will be held May 31st 4:30pm-9:30pm at Lancaster County Public Safety Training Center and June 1st 8:30am-6:00pm at Lafayette Fire Company.
The Lafayette Fire Company Volunteers organize and host a yearly Cadet Camp focused on ages 8-14 where children get a hands-on first responder experience and learn about the roles that serve the community!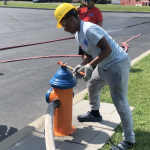 Cadet Operates Hydrant Video Link
The camp is led & directed by Lafayette FF/EMT Kim Herskowitz and utilizes Lafayette firefighter volunteers in addition to more than 10 local first responder agencies' staffing in order to create real world connections to the public service opportunities for children.
Carefully designed with different stations, varied locations including the Lancaster County Public Safety Training Center, and incredible community support, no 2 years of camp will ever be the same. The first responder and public service world depends on collaborative learning and cooperation on emergency scenes that highlights why STEM learning is such an important part of the development of our future cadets.
During camp, the cadet is issued personal protective equipment to assist in completing the skills stations safely, given a camp uniform t-shirt, and food and hydration options are readily available. At the conclusion of camp, parents and families are invited to attend and see demonstrations of the skills stations, a small awards ceremony, and a cookout to highlight the camaraderie that exists in firehouses and first responder agencies across the county.
There is a $50 registration fee for camp that covers the basics; however, scholarships are available for any cadet to attend.
How to apply for scholarship:
With the help of a parent, guardian, or teacher, please have the Cadet submit an email in their own words to [email protected]
Please put Scholarship in the Subject Line.
1. Cadet's full name.
2. What do they hope to learn & do at cadet camp?
3. What is the color of the Lafayette Fire Apparatus (Engines & Trucks)?
The scholarship email requests will be reviewed by the Cadet Camp committee, and an email will be sent with next steps should the cadet be awarded a scholarship to attend camp. Do not delay, send your email today to guarantee your spot!
Thank you to the 2024 Camp Sponsors: Lancaster County STEM Alliance and First Responders Children's Foundation.
Do you have questions? Email [email protected]